Set out on your journey
Experience the atmosphere
Follow history
Always worth a visit
Intercultural meeting places
Begegnungsstätten
Kirchen sind faszinierende Orte. Der Besuch einer Kirche ist immer persönlich und individuell.
Der Kirchenführer ergänzt diesen Besuch, unabhängig von Ort und Zeit. Er ist ein Medium zum Austausch zwischen Kirche und Menschen und erfüllt einen kulturellen Bildungsauftrag, indem er Jahrhunderte alte Geschichte erzählt.
Ganz gleich, ob Sie sich bei Ihrem Kirchenbesuch für Hintergrundwissen und Details interessieren, über die Umkreissuche die nächstgelegene Kirche suchen oder vor verschlossenen Kirchentüren stehen und zumindest virtuell gerne einen Blick in die Kirche werfen würden, der Kirchenführer leistet einen wertvollen Beitrag, dass die Kirche mit ihren Schätzen, Geschichten und Angeboten zu den Menschen kommt und diese auch erreicht.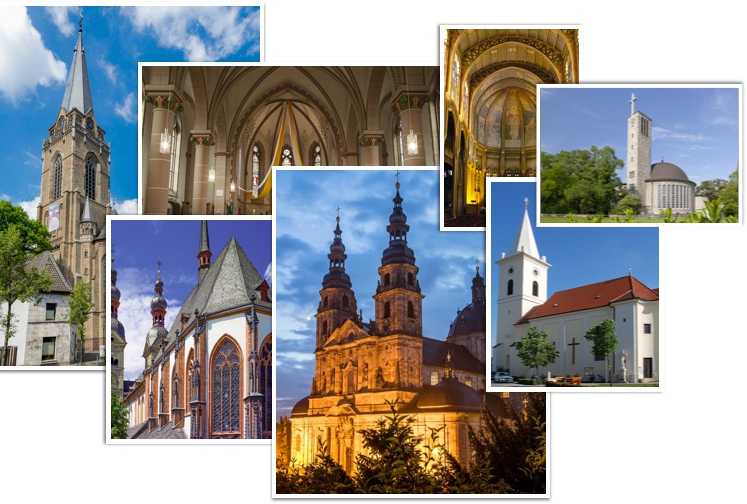 Our motivation
Fascinating Place
For us these churches are something very special and create above all fascination and respect: Churches are the most impressive man-made landmarks of a region and give a location its unique individual character. They are an incarnate kaleidoscope of history, architecture, culture and religion. Come with us on our journey to experience this fascination and to discover churches with us using new means! Let's set out on this journey together ...
Interesting Facts
Our church guide
No matter what religious terms and foreign words you will encounter on the sites in our Church Guide:
In our reference book you will find explanations for all technical terms from architecture and history and answers to all of your questions concerning liturgy and churches. Broaden your knowledge – it's worth it!
New churches are waiting to be discovered
In our Church Guide
Church Guide
Travel to new places and discover further churches – let's explore these together. We are constantly on the lookout for new churches to present and for you to discover with us! Our aim is to instil your desire for more by presenting the latest new additions. For more information, see the brief overview in the following: